Equestrian Arena Maintenance
Regular maintenance can add years onto your equestrian arena.
Competitive Prices

Over 20 Years Experience

Nationwide Delivery
Horse Arena Maintenance
Arena maintenance will guarantee your surface remains sustainable and in good working condition for many years. Through experience we have found that simply picking up dropping or carrying out regular maintenance can add years onto your surface. It is important that you do carry out maintenance. In some cases, you may need to resolve dryness to improve stability. In other cases a plan to resolve existing drainage issues may be required.
We recommend that you consider adding a comprehensive piece of equipment into your arena plan / budget if you want to get the most out of your surface. It is also a good idea to invest in a sturdy quad bike or small tractor to tow you horse arena maintenance equipment. Please feel free to call us if you require any advice about maintaining your arena surface.
We offer a maintenance program to ensure your surface remains level and in top condition all year round. Contact us now to discuss annual maintenance.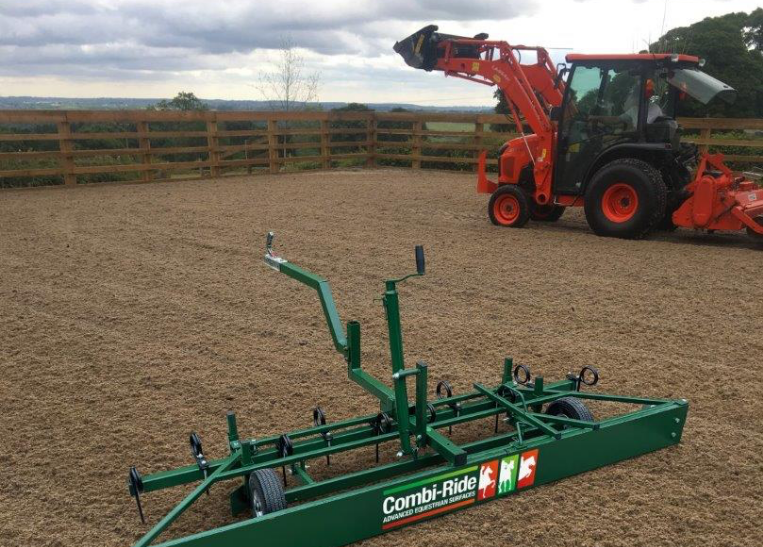 We Can Help With
Drainage Problems

Surface Rejuvenation

Dry Ground Rejuvenation

Uneven Surfaces
Common Questions, Issues & Answers
My sand surface becomes deep in the summer and too hard in the winter what can I do to eliminate this problem?
Your surface being sand alone relies on moisture content to stabilise it, when the moisture content is high during winter periods the surface is over compacted the opposite occurs when the moisture level is low in summer periods it will lose its stability. Using synthetics to stabilize and hold moisture during the summer months is key and will hold the surface together the combination of using rubber crumb in the winter months will prevent the surface becoming dead.
We had a builder who used the wrong sand in our arena, it rides really deep and becomes unusable in summer do we need to replace it all?
This is a typical problem as there is so much confusion about silica sand. Sometimes we can blend the existing sand with a finer sand and use our dual stabiliser and get good results. The best advice would be to send us a sample and we will do some blending in house and give you the results.
My surface holds water but the drainage system seems to be working o.k?
If you have eliminated the drainage system the next thing to look at is the surface itself. Many sands form pan layers over a period of time which can stop water filtration, it may just be a case of turning the surface through. Try that next. If this works you could look at adding rubber fleck into the sand to prevent it forming again.
What is the difference between your dual stabiliser and others on the market?
We set out to make the best stabilising fibre on the market, 6 years ago we set out to make the best stabilising product on the market after using different types ourselves, and this took us to using micro fibres, as this allows us to get more nylon into the sand. We pulverise the fibre so we can get twice as much in, than a normal chipped carpet fibre or similar. Then we take it a step further, and blend it with small rubber fleck to provide life to the surface. Both of these elements create a better cohesive blend and prevent the fibre coming back out of the sand as we see with other fibres.
Testimonial
Having a surface that my horses can find confidence and consistency on in training every day is very important, that's why I chose COMBI RIDE. It is an extremely high quality, affordable surface installed by a very understanding, professional team.
Adam Trew