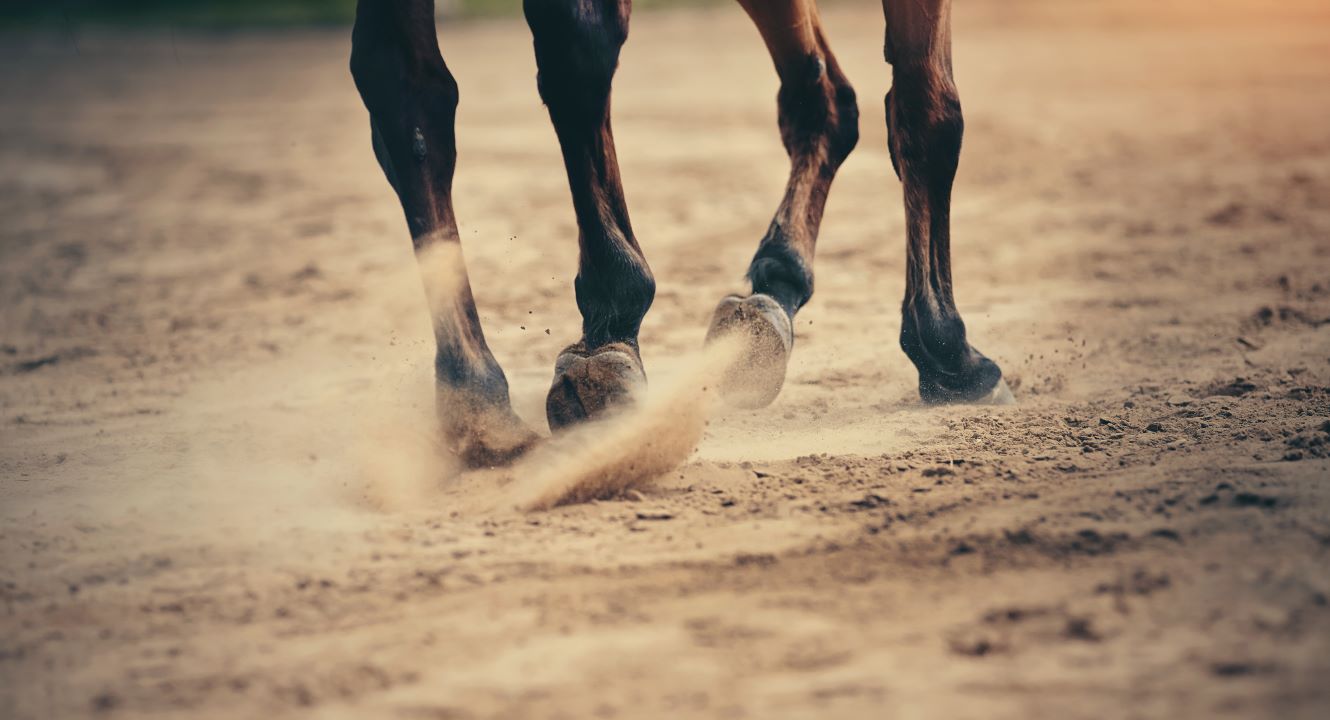 A Guide to Horse Arena Maintenance
If you're concerned about keeping your horse sound during schooling, read our guide to horse arena maintenance. Your intention to keep your horse fit, healthy and supple by schooling on a regular basis may be undone by working on a surface unfit for use. A poorly maintained arena surface is a risk factor to the soundness of the horse. Here are some of the horse arena maintenance things you can do to improve your arena.
Have the Correct Balance of Sand and Additives
The ideal surface provides support and shock absorbance to minimise the risk of injury. It should also provide grip and give back energy to the horse to encourage the continuation of movement. We all know how running in soft sand on the beach is more difficult than running on hard, wet sand at the water's edge: this is the same for horses. A surface that is too deep, such as beach sand, absorbs energy, meaning you have to generate more force with your muscles. However, wet sand on a beach is a whole different ball game.
If you find your menage is holding water, or conversely is too dry, or having areas where it is becoming sparse, it's important to add a material to improve stability. So you should make sure your menage surface has the right balance of materials to increase support, enhance performance and help to prevent injury to your horse.
Horse Arena Maintenance Equipment
Horse arena maintenance equipment will help with regular arena dragging and grooming if your arena is large. Smaller areas can be rectified using a rake but can be back-breaking work. Hard packed or high-traffic areas should regularly be loosened and deeper areas should be smoothed out. However, when you use a drag, be sure to avoid touching the base. If you disturb the third level of the footing, you can cause unevenness. This may be something you want a third party to carry out for you who have the horse arena maintenance equipment for the job.
Dragging on a regular basis keeps the surface from compacting, so maintaining an optimum surface for schooling or jumping.
Remove Droppings From Your Horse Arena
It is important to remove droppings as quickly as possible from the arena surface. Droppings and organic matter, such as fallen leaves, can quickly degrade into your footing which will affect its stability and cause the surface to prematurely dry out. Manure is made up of organic material and when left in an arena and ridden over, it breaks down into smaller pieces. These smaller pieces release bacteria and dust. Having a poo picker on hand will make it easier and more convenient to keep your arena tidy.
Minimise Dust in Your Arena
A well-maintained arena should last for a long time. However, failing to water will significantly decrease the base's lifespan and compromise the quality of the arena. A watering system will get the job done quickly, but a sprinkler head attached to your hose will do the job too.
Watering your base regularly will keep it soft and pliable. If you ride once a day, you'll probably need to water once a week but if you only ride a few times a week, you can go longer between regular waterings.
Promote Drainage in Your Arena
Outdoor riding arenas are exposed to the elements throughout the year. Weather conditions, shifting temperatures and precipitation can impact the composition of the surface and the way the surface performs.
Drainage will help the surface to keep its moisture in dry months, reduce dust and help the surface to perform at its best. The drainage system will allow water to drain away from the surface in wetter months, preventing the arena from becoming waterlogged. Keeping moisture away from the surface will also prevent it from freezing in the winter, meaning you can ride safely on it all year round.
Make sure you check the drains on a regular basis to make sure there are no blockages that would prevent water from draining away.
How to Maintain a Waxed Surface
Surfaces with wax are more resistant to frost than those without wax, however, they can freeze in very cold weather, especially if there is excess moisture in the surface.
If there is a chance of a significant drop in temperature, it's best to prepare your surface by grading it deeper than you normally would to loosen the mix. This will help any excess moisture to drain away through the surface reducing the risk of the surface freezing over.
How to Maintain a Non-Waxed Arena Surface
Surfaces with no wax content in their composition are more susceptible to frost, so keeping up a meticulous horse arena maintenance system will be key to keeping your surface rideable and safe. Using an arena cover to provide additional insulation will give protection from inclement weather when your surface is not in use.
Most non-waxed equestrian surfaces require regular irrigation to help keep the footing secure and compact.
Regular Horse Arena Maintenance
Regular horse arena maintenance is an important factor in keeping your horse sound and performing well. Staying abreast of things will help to ensure the life of your surface and will save you possible costly repair costs in the future.
If you need some help in maintaining your horse arena, give us a call here at Combi-Ride on 01623 239 875 for regular horse arena maintenance. It could add years onto your equestrian arena.