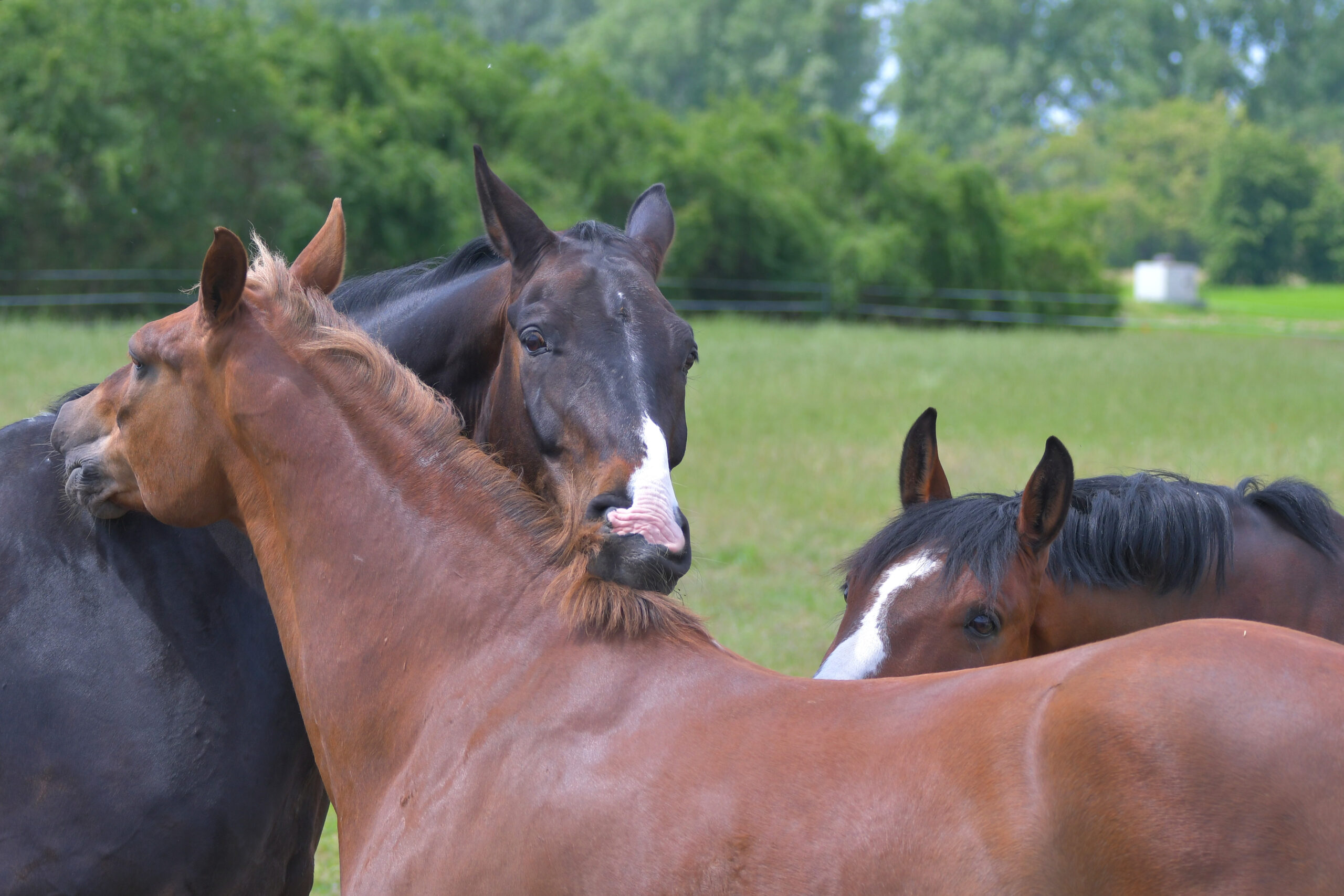 Six Ways to Improve Horse Happiness
Horse Behaviour

A happy horse is a well-behaved horse and we all know how important good horse behaviour is. Happy horses are a pleasure to be around; they learn quickly and interact with us and above all else are safer than an unhappy horse! For that reason, we thought we'd discuss six ways you can ensure your horse's happiness.

Hit the Hay
The first and most important way to keep your horse happy is to ensure they are well fed and watered. As herbivores, horses need a very specific diet. They require lots of fibre to keep their extremely long and sensitive digestive tract working, eating little and often. So, whether that's grass or hay, they should be eating almost all day long. A constant supply of water should be on hand as an average horse drinks five to 10 gallons of fresh water per day. Without enough water, horses are at greater risk of developing digestive issues, such as impaction colic which, in some cases, can be fatal.

Horses are Creatures of Habit
Horses thrive when they live in a steady routine. They are naturally a flight animal which means they can easily become anxious or stressed by the unknown. Having a steady routine can help keep your horse calm and improve their wellbeing and ensure stress-free horse behaviour.

Horses are Herd Animals
Horses need companionship. Horses feel safer when they have other horses around them as part of a herd because, as prey animals, there is 'safety in numbers'. If you ever see a horse lying in a field, there is invariably always at least one horse standing over them, guarding their sleeping companions. A horse on its own in a pen, for whatever reason, can be perfectly happy though as long as they are in sight of other horses.

Exercise Isn't Only for Human's Mental Health
If you've ever had to keep a horse on box rest due to an injury, you'll know how frustrated they can become. Proper exercise will improve their circulation, digestion, flexibility, muscle and bones, and impact their overall health and horse happiness. There may be times you have to keep your horse inside due to bad weather: try and make sure they go for some exercise in the day, even if it's just a walk around the yard.

Farrier and Vet Care
If your horse's feet get too long or unbalanced, it's going to affect your horse's behaviour as well as his performance, so regular shoeing is vital. All horses are slightly different but, on average, a horse should be shod every five to eight weeks.

Inadequate worming will affect his immune system, and even cause colic or heart problems. Additionally, don't forget to have your horse's teeth checked. Horse's teeth continually grow throughout their lives; have you heard of the saying, "long in the tooth"? This originates from being able to guess the age of a horse from looking at the length of his teeth. Because of this continual growth, they can sometimes develop sharp points to their teeth making eating difficult when each bite irritates his cheeks.
You Scratch my Back and I'll Scratch Yours
If you watch natural horse behaviour in a field, you will spot that they often scratch each other's necks. They are normally close companions in the field and seem to have a mutual agreement: you scratch my back and I'll scratch yours!

Stabled horses or horses without a friend often don't have that luxury, so this is where grooming will take its place. It will also give you an opportunity to notice any injuries. If you find that special spot for a scratch, they'll be sure to show their approval!

Horse Happiness is Your Goal

So, a happy horse is more likely to be a well-behaved horse and horse happiness, as an owner, is what we should all strive to achieve. Follow these guidelines and not only should your horse behaviour be good, your companion will, hopefully, live a long and healthy life.