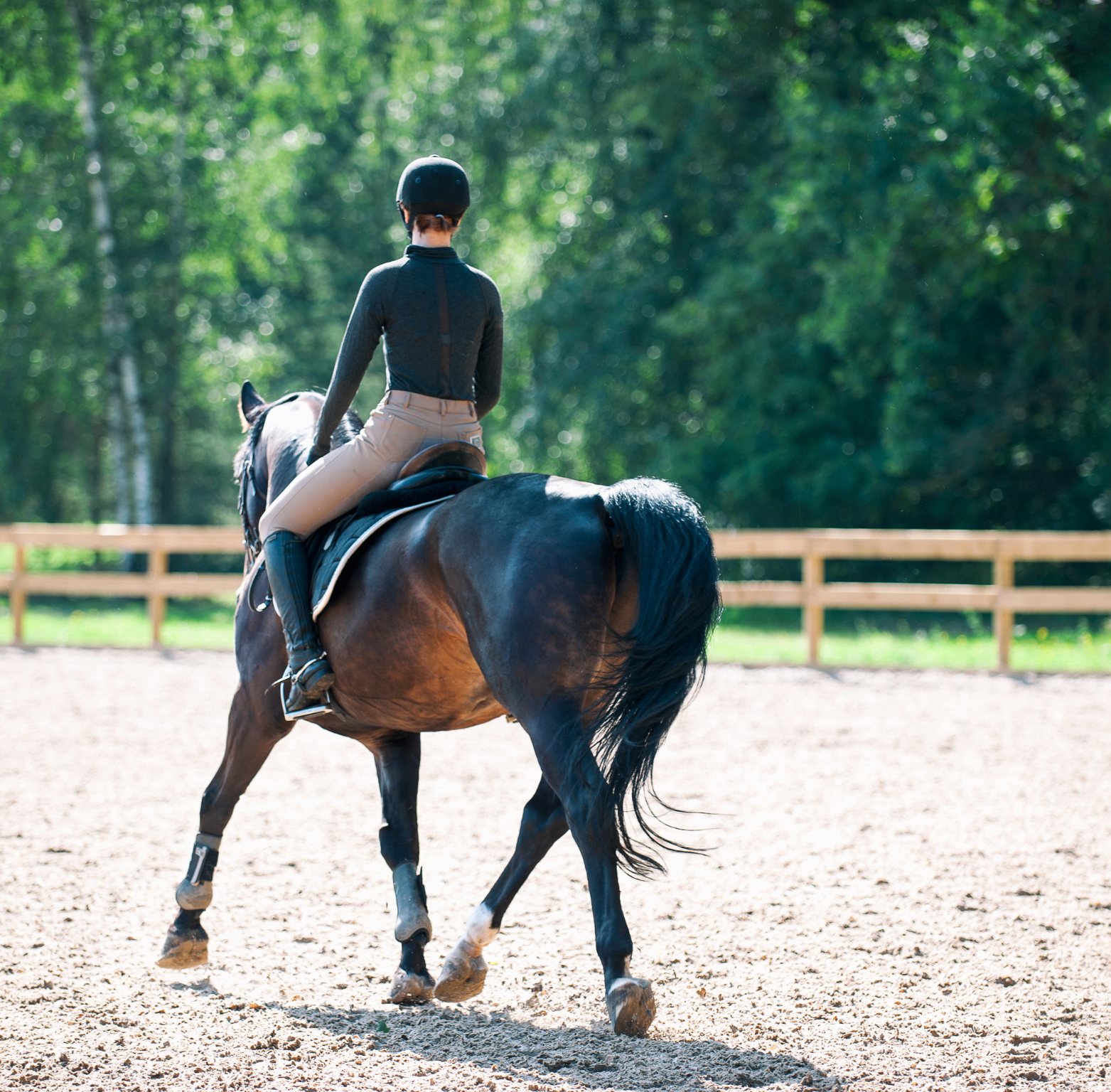 How to Construct a Horse Riding Arena
Constructing a horse riding arena involves careful consideration, not least of all the needs of your horse.
Horse arena construction demands thorough planning and assessment of potential hazards and precautionary measures to keep your horses safe. 
In this month's article, we will discuss the preliminary steps of horse arena construction, as well as the overview of horse arena costs and additional features you will need to enhance the weatherability and protection of your arena.
Obtain Planning Permission
Building a horse riding arena requires planning permission since you intend to make changes to the land it stands on.
You should contact your local authority to determine whether planning permission will be required, and what is involved to obtain it.
Consider Seasonality
Building structures is best done in the summer months, as there is a better guarantee of dry conditions and the ground you stand on to remain firm. Smooth construction will become far more difficult if the ground is saturated.
Determine Size
A horse-riding arena should have ample room for your horse to practise freely without feeling confined.
If you're performing novice dressage, a 40m by 20m arena will do, but if you're show jumping with your horse, they will normally require an arena of a minimum of 25m wide. You can never go too big, but you can absolutely go too small. The size of your horse arena is vital!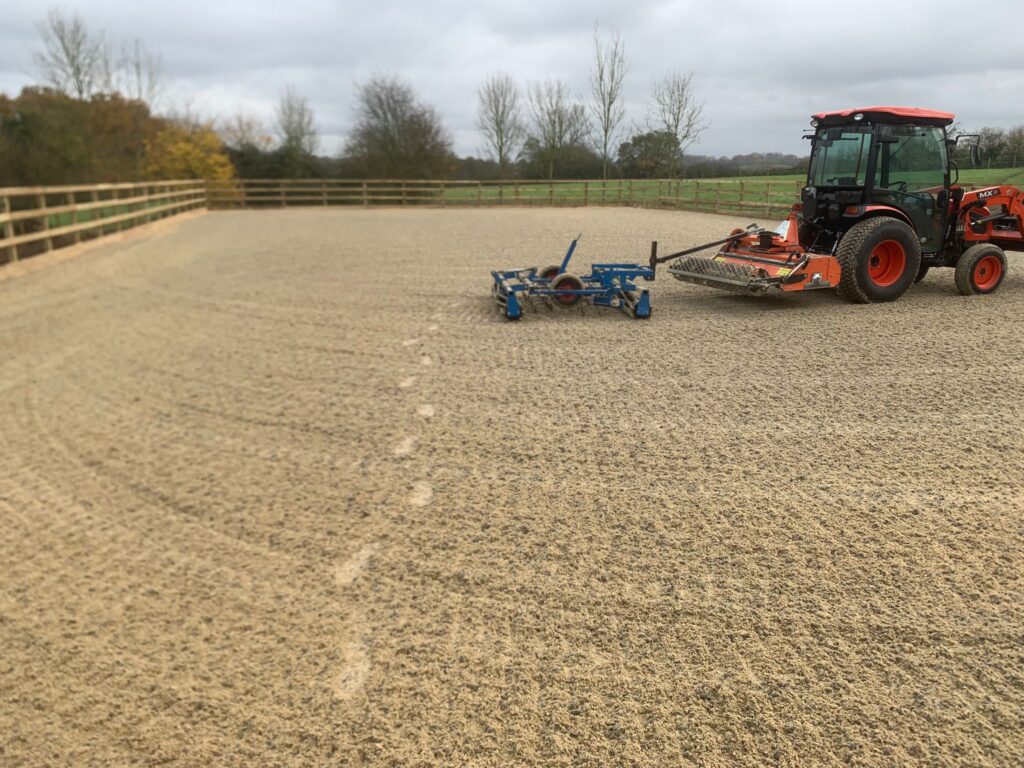 Compare Sites
There are a few things you should look for when choosing a site for horse arena construction. For example, you should consider the level of the land you intend to build on, and assess whether draining may become an issue as a result. 
Areas that are too exposed can leave your valuable surfaces susceptible to blowing away, so you should avoid open areas.
Finally, it would be beneficial for the length of your arena to be positioned from north to south to achieve maximum sun exposure during the day.
Site Preparation
Use a string line to map the area of your arena and add an extra two metres as a boundary line (40m x 20m would require 42m x 22m). 
Remove the topsoil from the surface to expose the subsoil, which should be approximately 25mm to 300mm deep.
Topsoil is susceptible to waterlogging due to the grass and will have weak load-bearing abilities. Therefore, building on topsoil is not recommended. 
Drainage and Base Membrane
The surface of your horse arena will require drainage as an integral aspect of maintenance. So, you should construct a central channel to ensure adequate drainage.
The channel should be 30cm wide and have a minimum depth of 40cm, starting from the highest point and making a gradual slope downwards to the discharge point. 
You will require drainage from the surface of your horse riding arena and the perimeter of your arena to protect your timber posts and prevent deterioration or flooded pathways. 
The base membrane prevents the mixing of subsoil and your arena surface while providing adequate drainage of water from the surface.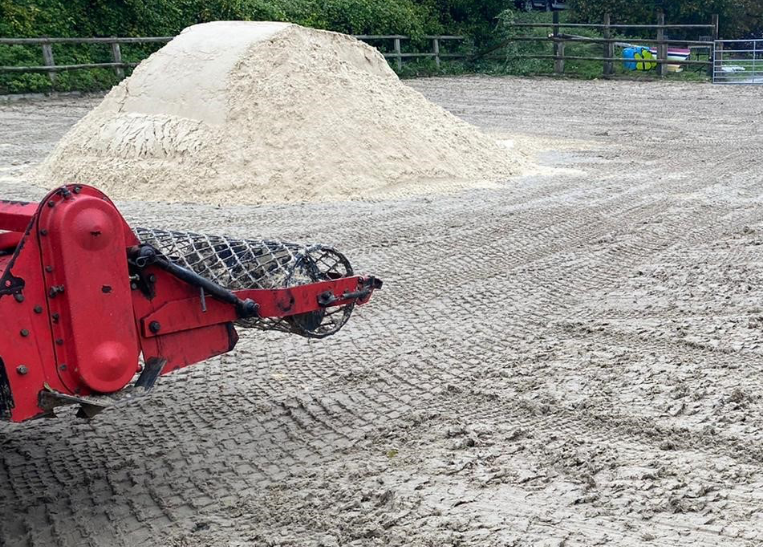 Install the sub-surface
Some of the most popular subsurface materials include Clean washed hard  limestone, ragstone, granite, or crushed concrete.
These materials will provide adequate drainage, especially when installed at an ideal working surface of 150mm when compressed using a vibrating roller.
Fit the Surrounding Structures
The surrounding structures include fencing and gates, posts, kickboards, rails, and non-woven membranes.
When choosing a type of wood for your fencing, gates, and posts, you should choose high-quality timber that has been  pressure treated, and guaranteed a lifespan of at least 15 years to ensure longevity. 
The installation of the non-woven membrane is the final step before the installation of your arena surface. This will prevent the surface from filtering through into the sub-layers of your flooring and becoming too thin for use.
Lay the Surface
The surface you choose for your horse riding arena will influence your final horse arena costs. But you should always endeavour to invest more in your surface to ensure your horse is cushioned and comfortable while riding.


How can Combi-Ride help?
Here at Combi-Ride, we offer a range of equestrian surfaces from sand , Stabiliser fibres and rubber chippings to our very own Combi-Pro Advanced surface to offer maximum comfort and ease of riding.
Additionally, we specialise in horse arena construction and can help you achieve the horse riding arena you've been looking for. 
Contact us now to get in touch with a member of our team and get started on your horse riding arena!